Remember the smiley face emoji you always share with your friends? You will surely feel a little unconscious joy when you remember it. Now imagine a set of trees grown in the middle of a forest that depicts the form of a giant smiley face. Those amazing smiley face trees can definitely put a smile on your face while exciting you with their wonder; can't they?
These amazing smiley face trees are located in the middle of a beautiful forest in Oregon. Hampton Lumber is the company that first manifested this exceptional idea of planting trees to give a separate appearance to nature back in 2011. Today, these amazing smiley face trees have become one of the most famous travel destinations in Oregon. People consider this smiley face a symbol of the harmony between humankind and nature.
From an idea to a reality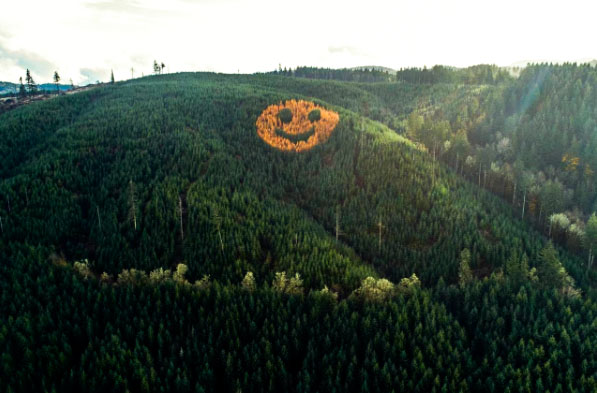 Hampton Lumber is a sustainable lumber-producing company in the United States. Planting trees that can be transformed into lumber at the end of their useful lives is a significant part of their business process. But this time, they wanted to do something unusual to add more value to nature as well as to their business. That's why they decided to plant trees in such a way that they show an amazing smiley face.
Finding the appropriate kind of trees to create the smiley face was the next challenge they faced along the way. They managed to choose Douglas Fir and Larch trees since they have unique attributes that are required for the project. Douglas Fir is a tree that belongs to the Pine family. It is an evergreen species of tree and that characteristic is ideally matched with their requirements.
On the other hand, Larch is also a tree in the Pine family, but it is not evergreen. In the autumn season, the needles of Larch trees turn yellow and orange and finally fall off. Hampton Lumber used Larch trees to create the outline and form of the face because its orange colour differentiates it from the other green trees in the forest. Eyes and the mouth of the face were created using Douglas Fir trees. Since it is evergreen, smiley eyes and mouth got highlighted among the orange colour of Larch trees.
They had to plan where they should place both trees before planting them. They wisely utilized a rope to outline the shape of the face. Then they determined the exact location to place the eyes and the mouth. However, at the end, it turns out to be an amazing smiley face that can be properly seen from up in the sky.
Being a symbol of happiness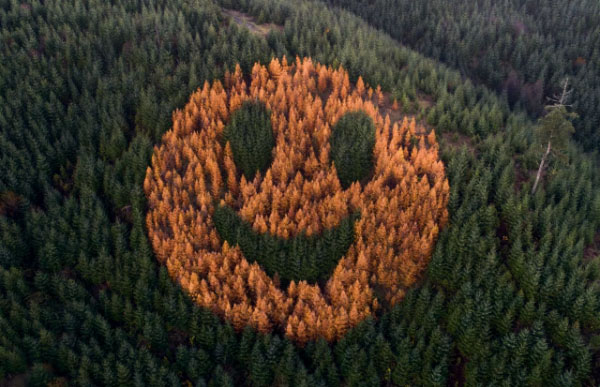 In autumn, this large smiley face becomes properly visible because Larch trees turn their autumn colour. People from everywhere come to Oregon to witness its amazement. Owners of Hampton Lumber are also surprised to see people coming from all over the world to have this joyful experience. One of the co-owners of Hampton Lumber, David Hampton, revealed that they had believed from the beginning that this amazing smiley face was going to impact people in a positive way. They were so happy to see their initial intention getting fulfilled day by day.
Oregon had already been famous for the fall foliage in the autumn season even before planting amazing smiley face trees. However, now Oregon has become 100 times more attractive for travellers because of this symbol of happiness. The majority of people coming to Oregon choose it as their travel destination just because of this special giant face that smiles happily in the autumn season. Whoever goes along Oregon Route 18 from Willamina to Grand Ronde definitely stops on the way to enjoy the beauty of these amazing smiley face trees.
The global community became so keen on amazing smiley face trees after this monument recently grabbed the attention of Japan. Japanese people shared pictures and built up conversations about the wonder these amazing smiley face trees append to the beauty of fall foliage in Oregon.
Although nature experiences its fall season to prepare to tolerate the hardships of winter, it never forgets to bring joy to human lives keeping, all the difficulties to itself. That's what this amazing symbol emphasizes. It inspires us to be humble and kind no matter what we are going through in our lives while connecting us more and more with nature.
In future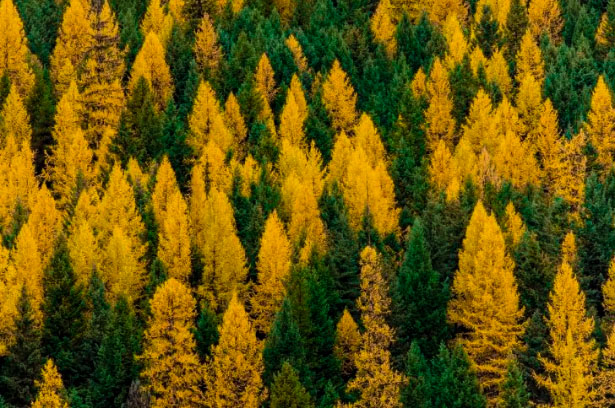 Sustainability is the foundation of Hampton Lumber. That's why they are so concerned about the sustainability and future existence of their lumber as well as these amazing smiley face trees. After 30 to 50 years of a long lifespan, Hampton Lumber ensures to remove these smiley face trees and plant new trees. So, smiley faces will be there for another long time to make viewers happy while protecting the ecosystem of the Oregon forest.
Hampton Lumber has already planned to create more symbols in the future and enhance the attractiveness of Oregon forests. Oregon will be a world famous travel destination that brings not only joy to people but also a great message about harmony between nature and humans. The ambition of this new project is to encourage people to be more conscious about protecting the environment. So, future generations will be lucky enough to see a lot more symbols collaboratively created with the beauty of the Oregon forest in fall foliage and the sustainability of Hamton Lumber.
As a whole
In 2011, Sustainable Lumber company Hampton Lumber planted a combination of Douglas Fir and Larch trees in the Oregon forest to manifest their innovative idea of creating a large smiley face using trees. With the fall foliage in the autumn season, this set of trees began to appear as an amazing smile face in the middle of the Oregon forest. Soon, these amazing smiley face trees became a symbol of happiness and attracted thousands of people from all over the world to witness their beauty.
The crew of Hampton Lumber, who are behind the creation of this amazing monument, was surprised to see how excited people are to have the wonderful experience of a giant smiley face. From the beginning, they believed this smiley face tree would surely bring a positive vibe to its viewers lives. The enthusiasm of the people encouraged them to maintain the future sustainability of these amazing smiley face trees by replacing them with new trees after old trees were transferred to lumber. Hampton Lumber is currently planning to introduce new symbols using trees in the future as well.
Nevertheless, these amazing smiley trees will be there to put a smile on our faces for so long while reminding us to continue the harmony between nature and humankind.