Gorillas are magnificent creatures and are among the closest relatives to human beings. We have a lot in common, and a unique, unreliable relationship can often be formed between gorillas and humans.
Recently, an Australian Zookeeper intervened to give a gorilla baby a chance to survive after being turned down by the mother.
The baby gorilla Kaius was born at Mogo Wildlife Park, in New South Wales last month; however, the adorable baby's life was cut short by a cliff.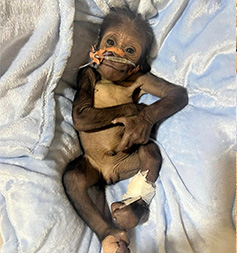 It was the first baby for the family of gorillas at the zoo Kipenzi, the new mother, was reported to have "done an excellent job" during her birth, and it was going well.
Kisane had to take Kaius off from the mother of his child during an important feeding time for reasons not apparent to the baby's father. Although the father was "very tender and gentle" to the baby and his baby, the separation from his mother could put his life at risk.
Zoo staff managed to bring the baby back to Kipenzi after 14 hours. However, Kaius had contracted sepsis pneumonia and was disapproved of at the hands of his maternal grandmother.
The life of the newborn gorilla was in danger. However, zookeeper Chad Staples and staff and veterinarians were not about to surrender.
"On the night that I saw him after all health professionals were treating him and then left, we were aware of the high likelihood that he would fall asleep overnight," Chad told The Sunday Telegraph.
Chad Chad, who has been posting updates about the situation via his page on Facebook, has been looking after Kaius all hours of the day, offering him extra love and attention like he was himself.