People consider their pets a part of the family. They do anything to take care of their loving pets. We have seen images and videos of people putting their own lives in danger to save their dogs from potential threats. In this story, a man fights with a kangaroo to protect his beloved dog. The dangerous incident that happened in Mildura, Australia, was captured in a video that later went viral.
The story
Mick Moloney and his pet dog, Hitchy, went to their favourite walking path near the river for a walk. Suddenly, Moloney realised that Hitchy was missing. He searched for his dog here and there. That's when he saw a kangaroo, which was staring at him. Its arms were pushing something into the water. Moloney became shocked by what he saw next. It was Hitchy. The large kangaroo was trying to drown Hitchy in the river.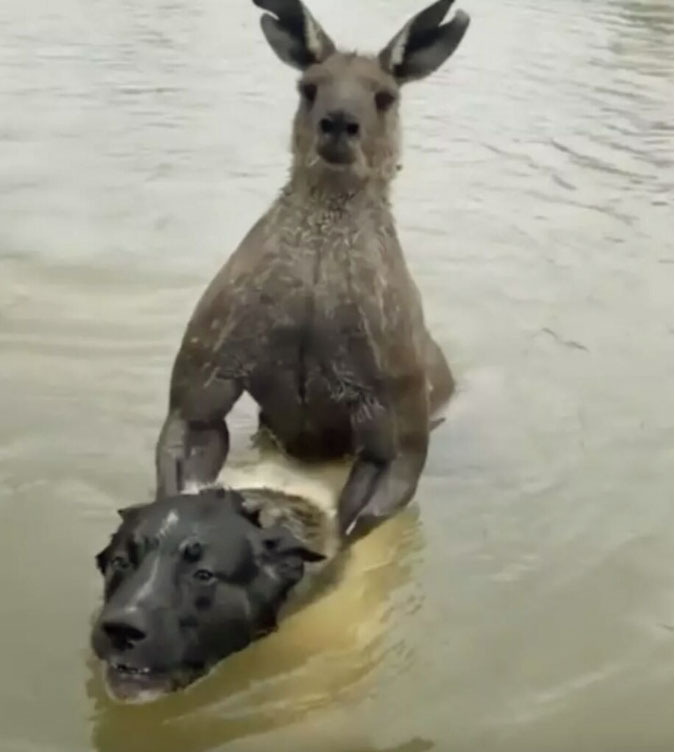 Hitchy was struggling to breathe. The water was coming out of its mouth. Moloney could see how scared his beloved dog was when he saw its eyes. It was trying to scream loudly. But the strong kangaroo didn't give Hitchy any chance to flee.
Moloney tried to scare the kangaroo by screaming while staying on the river shore. But it didn't become scared of him. Then he realised that he had to jump into the river to save Hitchy. He reached there and attempted to rescue the dog from the kangaroo's catch. Unfortunately, Moloney also had to face a punch from the kangaroo at that moment.
Why is this kangaroo so rude?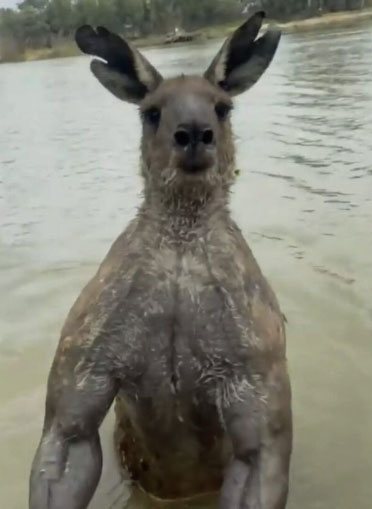 It is obvious that kangaroos are large and strong. But they are herbivores. So they don't hunt other animals for food. But they definitely use their power to protect themselves from threats.
Kangaroos normally escape to the water to avoid a threat on the ground. If the threat itself reaches out to the water, they use their strong arms and sharp nails to drown the threat in the water. This was how kangaroo ecologist; Graeme Coulson from the University of Melbourne described this kangaroo's behaviour.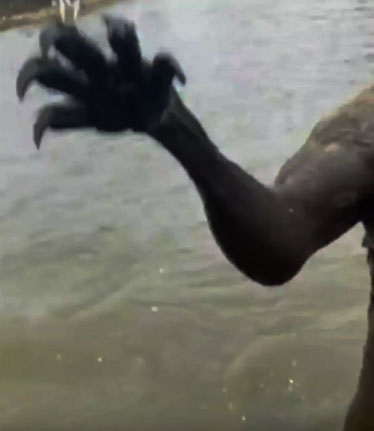 Back to the Story
The kangaroo's shot weakened Moloney for a second, but then again, he continued his attempt. Finally, both Moloney and Hitchy could win the fight over the kangaroo. They left the water and rushed to the river shore. Thankfully, the kangaroo stayed in the water, proving that kangaroos don't attack without a threat.
Everybody appreciated this man's love for his pet dog. He had a few scratches, but those are insignificant. From the next day on, Moloney continued going for a walk on the same path because he believed what happened last time was a random accident and he was confident enough to protect his beloved dog from any threat forever. Moreover, it is the favourite walking path of both of them.