This is the kind of story that everybody likes to know. This story is a good example of the power of human compassion towards animals. It is about a horse, his caretaker, and the dangerous accident he had to face.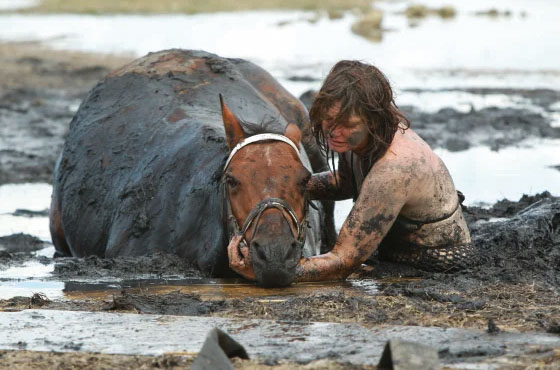 Astro is the name of this horse. Nicole Graham, Astro's caretaker, went to Avalon Beach in Geelong, Victoria, Australia, with her daughter, Paris, and their horse, Astro, for a ride in the afternoon. Unfortunately, three of them couldn't make it home as expected because Astro had to face a dangerous accident. He was stuck in the thick mud at Avalon Beach. Astro sank until the mud reached his neck level. A rescue team, which includes officials from the Country Fire Authority, members of State Emergency Services, and a veterinarian, tried their very best to pull him out of the thick mud. But the situation became worse when the tide began to rise.
Astro is an 18-year-old horse with nearly 500 kg of weight. So, it wasn't easy for the rescue team to take this heavy horse out of the thick mud at the beach. It seemed like a battle among the rising tide, a thick mud that was trying to pull Astro into itself, and a team of kind-hearted rescuers.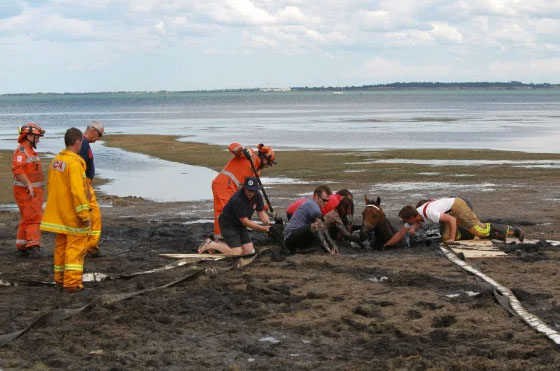 The rescue team was aware that around five o'clock in the evening, the tide would come and cover the entire area. So, they rushed to pull Astro using fire hoses. Then they used a winch for that. With the support of the fire hoses and winch, they could turn the situation into a little bit of a positive one. Before the tide rose and covered the horse completely, the team slowly pulled him out of the mud using a tractor. Fortunately, after a three-hour intensive effort, the rescue team could save Astro's life from that fatal threat.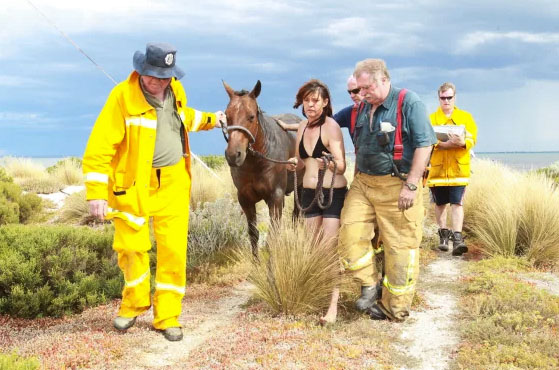 It is heartwarming to see that Graham was there throughout the entire rescue process in the mud, which reached her waist level. She held the head of her beloved horse above the rising ride so that he could breathe easily. She consoled Astro and tried her best to keep him calm. The unconditional love of the rescue team and Graham saved Astro's life proving that human compassion towards animals is one of the most powerful feelings in this world.