African elephants are incredibly magnificent creatures, but they are also quite vulnerable because they are endangered and threatened by habitat loss and unlawful poaching in their native habitat.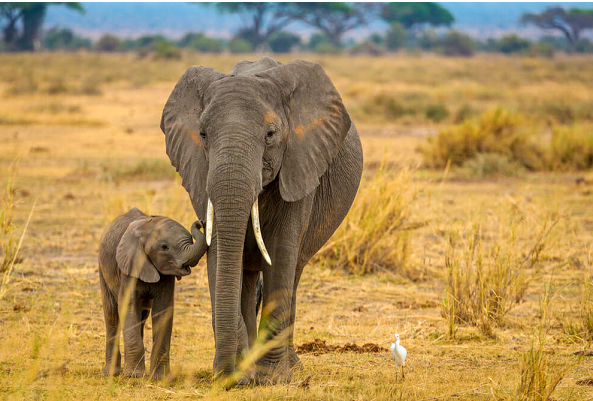 So every new birth is a heartening sign of hope for the continuation of this species. When Omaha's Henry Doorly Zoo and Aquarium announced the birth of their first-ever elephant calf—followed by their second in just a few short weeks—elephant lovers received double excellent news a year ago.
The zoo has announced that a third baby elephant has now been born and has joined this remarkable growing family.
The zoo reported on March 2 that Lolly, an 11-year-old female African elephant, gave birth to a male baby. According to reports, both mom and son were "doing well."
In preparation, Lolly has been under constant observation by the elephant care team. Following the arrivals of half-siblings Eugenia and Sonny last year, the male calf is the third elephant to be born at the zoo in recorded history.
Callee, a 22-year-old newcomer to the zoo in 2019, conceived all three calves.
To give Lolly some private time to connect with her new calf, the zoo said its Elephant Family Quarters will be closed to visitors. However, visitors can observe all three young elephants once the area is reopened.
The African elephant is listed as both endangered and severely endangered on the IUCN Red List of Threatened Species. Wild population health has been seriously damaged by illegal poaching.
The Association of Zoos and Aquariums accredits the Henry Doorly Zoo. In addition to caring for African elephants in captivity, they have participated in initiatives to protect elephants, such as the 96 Elephants Campaign, which calls for a tighter enforcement of the law against the illegal ivory trade given that 96 elephants are killed every day for their ivory.
This young elephant's arrival is always welcome news because it helps ensure this endangered species' long-term existence. Additionally, it should motivate zoo guests to contribute to preserving these magnificent animals.
The first three juvenile elephants to be born at the Henry Doorly Zoo in Omaha are undoubtedly causing a lot of excitement, but there is still more to come.
The zoo reports that Jayei, an elephant, is pregnant and her kid is due this summer.