How long particular creatures can live is simply amazing. It can be difficult to even put the lifespan of some animals into perspective because they can outlive any human.
People's minds are completely blown by discovering one ancient sea creature: a clam estimated to be 214 years old.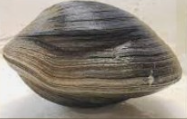 For context, the clam has been dubbed "Aber-clam Lincoln" since it was born in 1809, the same year as Abraham Lincoln was.
Americorps member Blaine Parker discovered the centuries-old quahog clam as he was gathering seafood at Alligator Point in Florida, according to Tallahassee Democrat.
The enormous clam, which was allegedly 2.6 pounds in weight and significantly larger than typical, was gathered by Blaine to make a chowder. Still, he decided against cooking it since he thought it was unique.
"We were just going to eat it, but after giving it some thought, we concluded it was remarkable. We didn't want to end it, he said, according to the Democrat.
He brought the clam to the Gulf Specimen Marine Lab aquarium. The bright bands on the clam's shell there allowed scientists to determine the clam's age.
The clam's 214 layers indicate it was alive as far back as 1809 because each growth band represents one year of life. How much of world history this clam has experienced is beyond comprehension.
Although quahog clams can live for over 200 years, the Tallahassee Democrat reports that the Abra-clam is the fourth-oldest clam ever recorded, making it one of the oldest known clams in history.
The clam has been alive since 1809 — the same year as its namesake! https://t.co/4HXBoL2bdD
— KOLDNews (@KOLDNews) March 6, 2023
Lincoln still has a ways to go before breaking the record for all time; in 2006, a quahog clam that was found to be 507 years old broke the record for the "oldest animal ever." That clam was named "Ming" since it was born in China's ancient Ming period.
Who knows how long Abra-clam Lincoln will survive, but perhaps it will break the record in a few centuries.
On February 24, the clam was released along the Gulf Coast and returned to the wild. Blaine said, "We just figured he won't live very well in captivity." And I believe he has earned the right to remain outside.
What a fantastic creature; it's mind-boggling to consider how much human history one clam has witnessed. We're relieved it didn't wind up in a chowder after all this time!