Although it is a stately and gorgeous animal, the rhinoceros is also one of the most fragile. Every rhino species is now considered vulnerable or endangered due to many challenges, including habitat degradation and illicit poaching.
In Kansas, a zoo is celebrating the long-awaited birth of a stunning Indian rhino, giving the species fresh hope.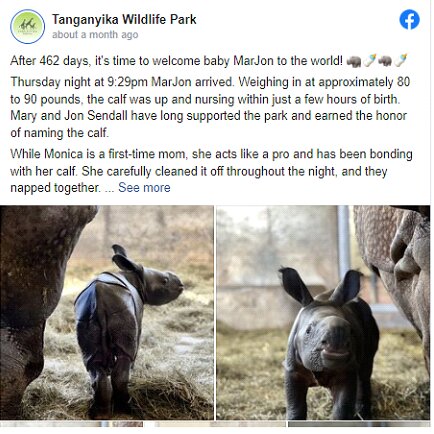 A newborn Indian rhino calf has recently been welcomed to Tanganyika Wildlife Park in Wichita, Kansas. According to the zoo, the "healthy and powerful" calf began nursing within hours of birth and was born weighing between 80 and 90 pounds.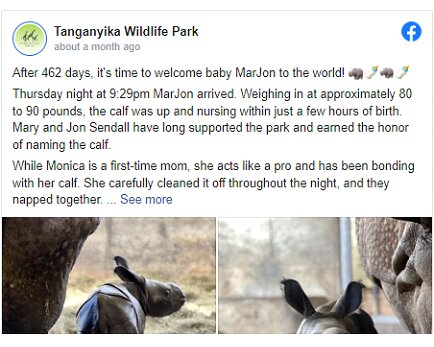 The infant has been given the name MarJon, or MJ. Its father is Stacks, and its mother is Monica, the first rhino to be conceived through artificial insemination.
The zoo claims Monica, a first-time mother, is a natural: "Monica is a new mother but acts like a pro and has been bonding with her rhino baby," reads a statement from the zoo. They took naps together while she meticulously cleaned it off throughout the night.
"Mom and baby are both doing fantastic, and we can't wait to watch MarJon grow and change over the next few weeks and months."
One of Monica's keepers, Sierra, expressed her delight at the health of Monica and her calf. "Monica has done well for a first-time mother, save from the few occasions when she used the calf as a pillow. We can't wait to watch MJ mature and travel the world, but in all seriousness, it's fantastic to watch them bond.
After a gestation of 462 days, MarJon was born. While it may seem long, the zoo claims this is the quickest rhino gestation ever, shattering the previous record held by Monica's mother.
Tanganyika Wildlife Park celebrates the newborn as a symbol of hope for a rhino species at risk of extinction. The most recent census found 4,014 Indian rhinos worldwide, which is encouraging. However, according to their news release, there is still work to be done.
According to the park, MarJon's birth demonstrates the success of breeding and conservation activities to preserve the species.
The birth "represents the accomplishment of conservation efforts and a devotion to maintaining the species with all rhinos being threatened or endangered," they stated. For rhinos to survive, zoos and organizations like the International Rhino Foundation must work to protect genetic variety and help endangered animals.
"The birth serves as a reminder that even though rhinos are not extinct, we still need to prevent them from going extinct," said the author.
Congratulation to Monica, the new mother of this gorgeous rhino calf, and Tanganyika Wildlife Park! Hello there, world!