A majestic and regal animal, the bald eagle. The American Bald Eagle is the country's national bird. The species has rebounded even though it was formerly thought to be endangered because of broad protections.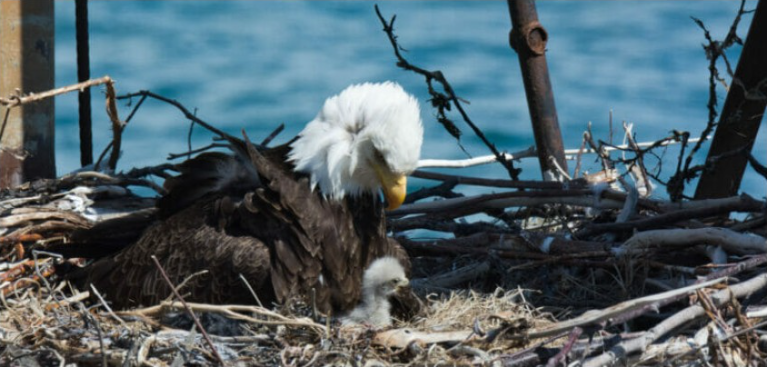 Every time a newborn bald eagle hatches, another of these stunning birds enters the world, it is a sight to behold. However, the good news was especially welcome for one pair of Minnesotan bald eagles who had tragically lost one of their eggs.
This season, viewers of the EagleCam program run by the Minnesota Department of Natural Resources experienced both highs and lows as a male and female eagle prepared to hatch their eggs in their nest.
The couple spent weeks using soft grasses and leaves to build their nest. According to the department, the female has been producing eggs in the same nest for four years.
In the middle of February, she successfully deposited two eggs that were spaced three days apart.
The neighborhood was severely hit by a strong snowfall on February 23 that deposited 13.4 inches of snow on the nest. While the snow gathered around her, the mother eagle was seen on camera protecting the eggs:
Sadly, the couple lost one of their eggs on February 28. According to the DNR, the male rose with one egg adhered to his brood patch as the female switched off with incubation chores. It's unclear whether the egg had already been cracked when the male got up or if it had already happened.
According to the Kansas City Star, the organization stated, "We have never seen this occur in the 10 years we've been observing this nest."
Nevertheless, the couple persisted in incubating their other egg, and specialists claimed that it had better prospects of surviving.
The Minnesota DNR stated that 50% of bald eagle chicks survive fledging (successful flying). Although losing an egg is painful and unfortunate, the odds of the remaining eggs surviving drastically improve because there will only be one chick to care for.
Fortunately, on March 26 the last egg hatched successfully.
According to the department, "both adults are zealously protecting the chick."
They wrote, "This solitary chick will be one well cared-for eaglet."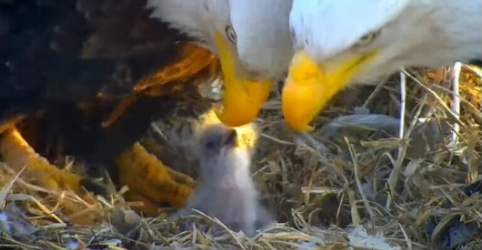 The EagleCam recorded the birth of the baby eagle, and viewers may now watch the hatchling's development.
The newborn is in what the department calls the "cutest stage of development," or "bobble-head" stage.
After tragically losing one of their eggs, we are so relieved that these two bald eagles were able to successfully hatch their young. This gorgeous hatchling will be carefully cared for, we are confident of that!